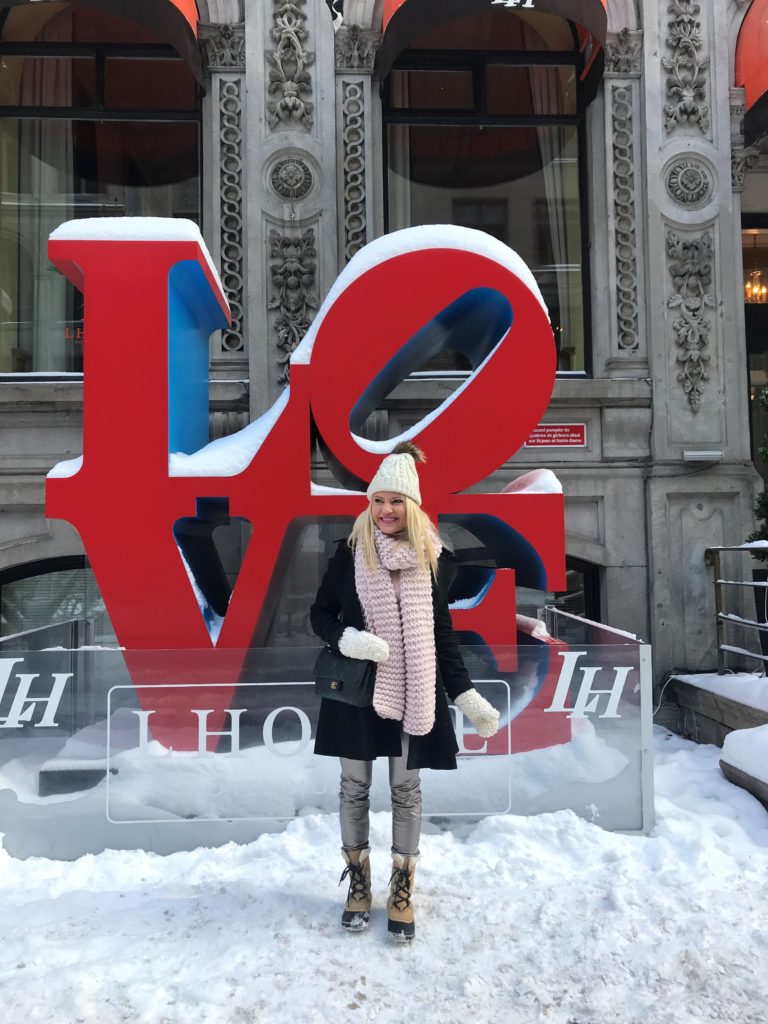 BEANIE ASOS | BUFFALO TOP City Chic | LEGGINGS Spanx | SNOW BOOTS Sorel | FAUX FUR VEST Sole Society | BAG Chanel | MITTENS Anthropologie | PINK SCARF Sole Society
It was absolutely FREEZING when my friends and I went to Montreal, so we didn't get to do as much exploring as we would've liked. It's a super charming French/English speaking city and after loving Quebec City so much I was so excited to visit. We were only here for a weekend but here's a few of the places we went that I loved.
HOTEL
L Hotel | We stayed at L Hotel which was located right in the heart of Old Montreal. It was close to great restaurants and cafes and things to do, we didn't have to take a taxi the entire time. Our room was roomy and we loved our hotel bar. The staff was incredibly helpful in helping us determine exactly what we were looking for.
RESTAURANTS/CAFES
Marche de La Villette | This was our absolute favorite! The food was exactly what we were looking for.. very French, but even better than the food was the wait staff. They has us laughing the entire time! Since it was snowing at the time, we ending up staying a few hours. It was super cozy on the inside and we got the perfect table next to the window to watch the snow fall.
Le Confessional | My friend Dani and I went here while we were waiting for our friend Christine's flight from Chicago to come in. It was very modern, had a cool atmosphere and had a super friendly wait staff.
Les 3 Brasseurs | This place we actually stumbled upon when we were exploring. If you go here you have to get the s'mores. It's like having a campfire at your table!
Cafe Tommy | This place is super instagramable and a great place to stop into to grab a coffee in the morning. We went for lunch and I had tomato soup and a stuffed grilled cheese, yummy comfort food for a snowy day!
SHOP THE MONTREAL POST